Residential Roofing in
Indianapolis,

IN
Contact the professional residential roofers at 317-214-8124 when you require reliable and affordable residential roofing in Indianapolis, IN! Jackson Contracting, Inc. is a residential roofing company that has been serving the Indianapolis community for a number of years with efficient roof solutions and exceptional customer service. When you are in need of a better roof for your home, or if your current roof system is in need of restoration or repairs, you can rely on our diligent roofers to help you find the best solution that fits your budget and meets your needs!
---
Dependable Residential Roofing Services
In order to properly protect your house from the elements, it is essential that your roofing is maintained regularly by an experienced and dependable residential roofer. At Jackson Contracting, Inc., we specialize in residential roofing services of all kinds, including roofing repairs, replacements, as well as installations. In order to offer results that include a dependable residential roofer in Indianapolis, IN, we purchase only high-quality products and stand by the quality of our finished products. To ensure top quality craftsmanship, all of our roofers are trained to use industry standard methods, and all of our roofing contractors are insured as well as licensed. Our services are more than just top quality, but also affordable. Discover more about the roof services you are interested in from the list below!
---
Whether you need repairs or installations, we are the asphalt shingle roof experts to call! Let us schedule an appointment to get an asphalt shingle roof installed on your home, or your current roof repaired.
Need gutters installed on your home? Is your current gutter damaged? Call us! Our roofers can install or repair gutters on your home, so you can protect your roof and lawn.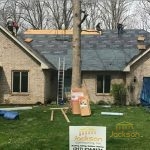 From metal, wood shake, and asphalt shingle, we can install any roof you want. Call us today to set up a time for residential roof installation for your Indianapolis, IN home.
Have roof leaks or missing shingles? Jackson Contracting is here for you with our repairs. We offer high-quality residential roof repair that will get your roofing system back in good condition.
Does your home's siding need repairs? Call our professional roofers today! We can repair any siding from Hardee Board to vinyl siding material on your home.
If your soffit and fascia is damaged, there is one residential roofing company to call. Jackson Contracting specializes in soffit and fascia repair, ensuring it doesn't damage other parts of your roof.
Call Jackson Contracting at 317-214-8124, to get in touch with a residential roofer about our services.
A Professional Residential Roofer You Can Trust
The residential roofers at Jackson Contracting are committed to providing our customers with the best residential roofing services imaginable. From repairs to installations, our roofing contractors will go above and beyond in order to give our customers the services they deserve. If you want a residential roofer in Indianapolis, IN who will deliver excellent roofing services, as well as customer service, turn to our roofing company today. If you are interested in setting up an appointment for residential roofing services for your home, call 317-214-8124 to speak to a residential roofer.
---