Residential Roofing in Indianapolis
Residential Roofs
No matter where you live or the type of house you live in, your home needs a roof that both covers and protects. A sturdy roof should last decades and protect you from the elements, especially when you live in the midwest where temperatures fluctuate greatly. In fact, the heavy rains and frequent snow storms that commonly affect the area, can wear down even the best installed rooftops and shorten their lifespan. That is why a strong protective roof, made of quality materials and installed by quality craftsmen, is so very important.
---
Choosing Qualified Roofers in Indiana
Jackson Contracting, Inc. has been in business for over 10 years and hires skilled laborers who are adept at both their trade and customer service. We understand that hiring a roofer can be a vulnerable experience, particularly when the one you have is in bad shape and you need a new one yesterday! Jackson Contracting really understand the importance of being able to explain what needs to be done, the time in which you can reasonably expect it to be done, and how to best maintain the health, if you will, of your roof.
If you want a metal rooftop, your flashing needs to be repaired, you are in the market for a more eco-friendly type of shingle, or have built an addition on to your home that needs a good roof, we contractors can help.
We believe strongly in not only providing outstanding work, but making sure you understand the project you are about to undertake, including our responsibilities to you and vice versa. The details of your roofing contract will be written and laid out clearly so there are no questions about the job at hand and what the outcome will be.
Roofing Permits, Licenses, and Qualifications in IN
Roofers are considered structural contractors in Indianapolis. Additionally, these structural contractors, especially the ones we employ and send out to our trusted clientele, must be licensed, bonded, and insured. Licensing is acquired after a roofing contractor has proven a certain level of skill and is legally allowed to work as a roofer. Insurance and bonding ensures that everyone within the roofing contract, from client to service provider, is protected in the event of an accident or damage to your home. While no one plans for these things to occur and we take preventive measures so they do not, things unfortunately sometimes go wrong.
In concert with these requirements, Jackson Contracting provides the community with roofing contractors who have extensive experience in our field. We value customer reviews and encourage prospective clients to speak with former customers about the work we have done for them in the past. You see, our goals are to provide quality work that you can trust and that can be vouched for.
---
Whether you need repairs or installations, we are the asphalt shingle roof experts to call! Let us schedule an appointment to get an asphalt shingle roof installed on your home, or your current roof repaired.
Need gutters installed on your home? Is your current gutter damaged? Call us! Our roofers can install or repair gutters on your home, so you can protect your roof and lawn.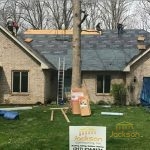 From metal, wood shake, and asphalt shingle, we can install any roof you want. Call us today to set up a time for residential roof installation for your Indianapolis, IN home.
Have roof leaks or missing shingles? Jackson Contracting is here for you with our repairs. We offer high-quality residential roof repair that will get your roofing system back in good condition.
Does your home's siding need repairs? Call our professional roofers today! We can repair any siding from Hardee Board to vinyl siding material on your home.
If your soffit and fascia is damaged, there is one residential roofing company to call. Jackson Contracting specializes in soffit and fascia repair, ensuring it doesn't damage other parts of your roof.
More Roofing Services:
Call Jackson Contracting at 317-214-8124, to get in touch with a residential roofer about our services.
Repairs and Replacements
Sometimes an old or damaged roof can be repaired, restored or renewed. Other times however, a new roof is just what the contractor ordered. It can be difficult to determine when you need a new roof and that is just one of the ways in which we can help.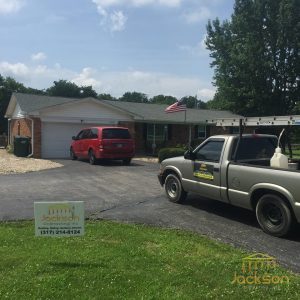 So, how do you know when you need a new roof? Well, before we install a new roof, there are a number of items that must be evaluated, many of which are known to the public by virtue of  the National Roofers Contracting Association (NRCA). For example, if there are signs of water damage, you can see light shining in from the roof, there are missing or damaged shingles, water stains, gaps between the chimney and flashing, dirt build up in the gutters, or the presence of mold or fungus, there is a very good chance that a new roof is in order.
Determining whether to install a new roof or replace your current one, depends on a cost- benefit analysis. Jackson Contracting can help you decide whether or not you need a new roof immediately or if you can replace a few damaged shingles and hold off on new installation for a bit. We will also help you figure out whether waiting to install a new roof will be in your best interests in the long term. If your roof has extensive damage already, paying for a new one before the problems get worse, may be your best bet. Keep in mind as well, that if you have heat or cool air escaping from a damaged roof, you are losing precious resources and cash. Your heating and cooling expenses, depending on the season of course, will be much higher if all that good air is escaping through a few rooftop holes.
Indy Weather and Roofing
It cannot be stated enough that the nature of midwest weather is unpredictable at best. It can rain one day, snow another, and then be nice and warm the next. Roofing materials expand and contract in conjunction with these weather changes, all of which can wreak havoc on roofs that are supposed to last even longer than they ultimately do. Be mindful of how the weather is affecting your roof, your proximity to trees and other items that can become airborne, or roof- borne as it were, and keep a record of when your roof was installed so you can gauge when it will be time for a new one.
Roofing Materials
Jackson Contracting, Inc. works with materials that are best suited for the homes of Indianapolis. We specialize in installing and repairing an assortment of metal roofs, work with asphalt roof shingles, and are proud to offer our customers premium roofing.
While our materials are all excellent, premium roofing affords our customers unique architectural shingles, rooftops that are both sturdy and aesthetically pleasing, and improve the look and feel of your home's exterior. We know that excellent service and outstanding labor are critical to our work, but we also understand that beautifying your home, from the top, down, is an important part of our job as well.
---