About Us
At Jackson Contracting, we are committed to providing residential and commercial roofing services that go above and beyond the expectations of every one of our customers. With the help of our local roofing experts, our company can ensure your roofing investment is protected with our high-quality and professional service, all provided with unparalleled customer service.
From asphalt shingle roofing to wood shake roofing, our roofing contractors can repair damages, provide complete roof replacement, and install any type of Indianapolis residential roofing that you want to not only protect your home but also make it look it's absolute best.
We also specialize in metal roofing and can customize any metal structure you want, including metal roofing and gutters. When it comes to residential roof installations in Indianapolis or commercial roofing for your business, you shouldn't just trust any roofer or choose one with the lowest price. You need roofing contractors who will go the extra mile to ensure your satisfaction in a job well done, giving you peace of mind. You also need roofers completely dedicated to providing reliable, efficient, and honest roofing along with top-tier customer service you can count on.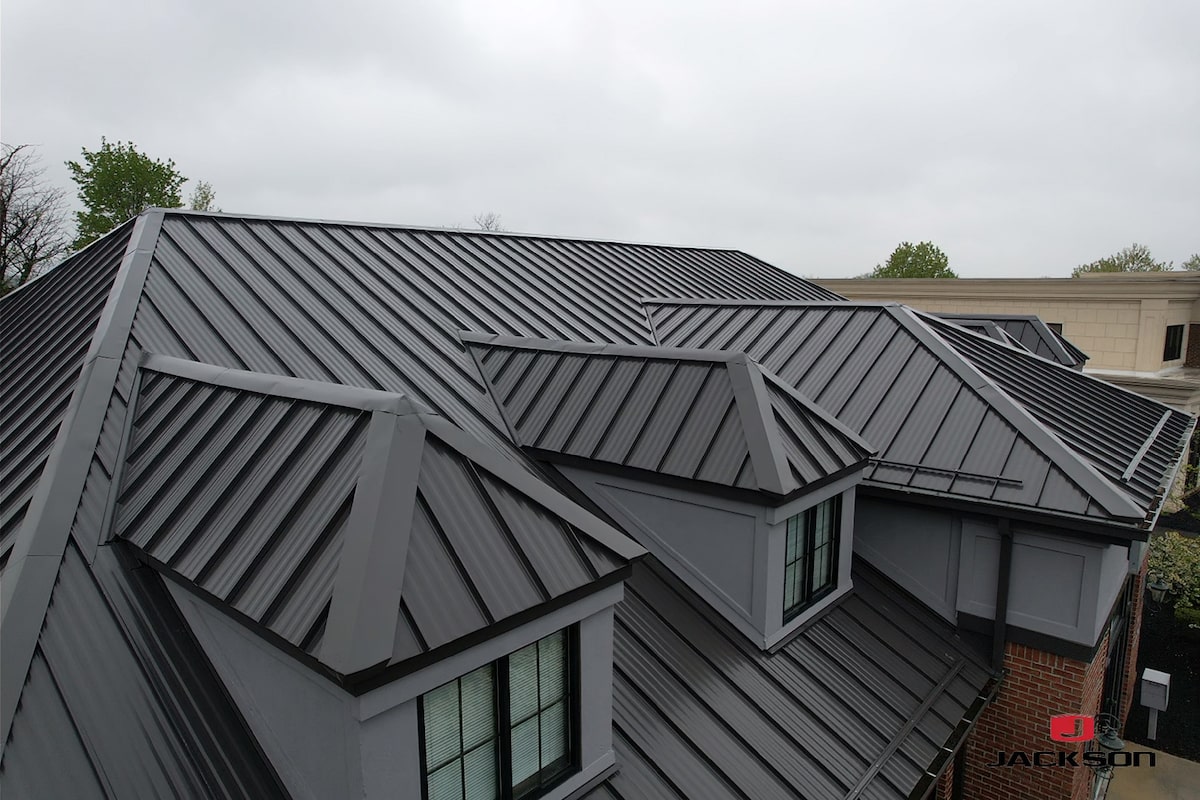 Meet Our Team
As a locally owned and operated roofing company, we are like family. Our team fully embraces creating a family environment that our customers say makes them feel right at home. We'll do whatever it takes to protect your home from top to bottom by providing exemplary services. Meet the people behind Jackson Contracting!
Joe is from Greencastle, Indiana, and graduated from South Putnam High School. Joe played collegiate football for Marian University. Out of college, Joe worked in the construction industry for 2.5 years as a general contractor before starting and running his own business. Joe joined the Jackson Contracting team in 2020 and has been here ever since. In his free time, you can find Joe playing sports, enjoying the outdoors, and working with his hands.
George is from Greenfield, Indiana, and now lives in Indianapolis. Before coming to Jackson Contracting, he spent the past five years as a professional engineer working for a commercial general contractor. George enjoys spending his free time with his family. He and his wife, Liz, have two daughters, Delaney and Leona.
Breana joined Jackson Contracting in 2020. She is from Indianapolis, Indiana, where she graduated from Mooresville High School. Breana's previous office experience and retail management have made her a perfect fit with the Jackson Contracting team. Her pleasant demeanor and courteous service are always appreciated by our customers. When she isn't in the office, you can find her going on nature hikes and exploring state parks, traveling with her family, or hanging out with her two cats.
Mike Bryant grew up in Indianapolis and graduated from North Central High School. He received his degree in Business Administration from the University of Alabama. During his spare time, he enjoys fishing, golfing, and cookouts with family and friends. Mike and his wife, Alison, raised two sons and currently live in Fishers.
Roofing Services We Provide
Because our residential and commercial customers deserve the best roofing services, we offer a number of beneficial services for them to choose from that include roofing repairs and roof replacement. You can count on Jackson Contracting to help you with these roofing services. If you're not sure what roofing services you may need or if we can help you with a particular service, give us a call. Our friendly employees will happily steer you in the right direction to help you make the best decision for your home. We provide:
Repairs for Roof Leaks and Damages
Maintenance
Weatherproofing
Roof Cleaning
Sealing
Debris Removal
Storm Damage Repair
No matter what you need for your residential or commercial property, Jackson Contracting offers premium roofing services and materials at fair prices. Call us today to get a free estimate on roofing in Indianapolis and secure your property with protection from above with a strong and reliable roof.
Why Choose Jackson Contracting as Your Roofing Contractors in Indianapolis?
Jackson Contracting is a roofing company founded by Indianapolis locals. We love our hometown and are committed to showing that in everything we do. That's why we treat all of our customers like family. We won't use scare tactics to make you replace your roof when it still has plenty of years left. We give you the facts and show you your options, allowing you to make a sound decision.
We specialize in residential and commercial roofing and have a team of roofing professionals devoted to doing every job right. Our goal is to make the whole process go more smoothly for you, allowing you to have peace of mind that our quality work will protect you and your family for many years to come.
Here's how we provide you with the great experience and craftsmanship you deserve for your Indianapolis home or business.
Locally Owned
Jackson Contracting is proud to be a locally-owned roofing company. We know we are serving our neighbors and aim to make residential and commercial structures in our neighborhoods safe and structurally sound.
Our Customers Always Come First
Exceptional customer service is at the heart of everything we do. We'll be there for you throughout the entire process of your roof replacement and are ready to help when you need repairs or maintenance. Our outstanding customer reviews are proof that Indianapolis loves the way we do business.
Fully Credentialed
At Jackson Contracting, we are fully licensed, bonded, and insured so that you will always have complete confidence in our craftsmanship. You can count on us to get any roofing job done right the first time.
Professional Roofing Experts
When you need roofers in Indianapolis, our roofing company is the one to call. Our roofing teams have years of experience and expertise in their craft and will take the time to properly repair, maintain, and install your roof.
Quality Roofing Products
While we strive to give our customers fair prices, we will not compromise on quality. In addition to making sure we perform our services with exceptional care, we also use quality roofing products to secure your home and family.
Indianapolis Roofing Company: Roof Repair, Replacement & Installation Experts
If you're a homeowner, having a roof replacement or a new roof installed is probably unfamiliar territory. Roofs are designed to last for years, but depending on the type of roof and roofing materials, some will need to be replaced sooner than others. With roofing repair, you may not know where to start.
The first step is to find the best roofing company for your Indianapolis roofing projects. At Jackson Contracting, you can expect a trustworthy partner who will treat your home like their own by providing detail-oriented roofing services and top-notch customer service.
When you need roof repairs or must change your old roof, you're making a big investment in your home. While it adds value, you likely will have many questions about the process. Our professionals are always happy to answer all of your questions. We also keep you informed every step of the way.
We encourage you to compare us with other companies in Indianapolis that provide services for roofs and gutters because we want you to make an informed decision. We offer free estimates to diagnose your roof issues and won't always recommend an entire roof replacement. If your roof still has more years to go before the end of its lifespan, we will break down your options to help you make the best choice.
Be cautious about companies that push for a roof replacement when your old roof isn't that old. We always give you the facts of our inspection to let you decide what's best for your home and family.
After completing your roofing project, our warranties for labor and materials will have you covered. The labor warranty covers any faulty work during the roof installation. The materials warranty will keep you covered in the event of any manufacturer defects on the materials we use to repair or replace your roof. As an Owens Corning preferred contractor, we can assure you that these vital warranties will keep you protected. We don't just repair, maintain, and install roofs, we build peace of mind for every Indianapolis resident.
Jackson Contracting checks all the boxes for qualifications to get the job done right the first time. Our Google reviews speak to our quality and professionalism. See why so many Indianapolis residents have kept their roofing needs local by calling us. We're the roofing company you can trust with your property.
Top Indianapolis Roofing Professionals
Do you need a new roof? Or do you need your roof repaired to fix roof damage? Either way, our expert roofers can quickly assess the condition of your roof and make an honest recommendation about the next steps you should take.
We highly recommend a roofing inspection to check your shingles and look for any roof damage. By spotting small problems early, we help prevent the need for major repairs. We offer a free estimate, so call us today to speak to one of our roofing experts. We'll help you figure out what you need and come up with the best possible solution that fits your budget. With financing options, you won't have to stress and can count on us to serve your needs for residential or commercial roofing in the community.
Top Quality Roofing Services & Materials
Give us a call at Jackson Contracting for expert roof repair. We provide top-notch service on-site when you need us for all types of roofs. Homeowners can breathe a sigh of relief and know their roof is in good shape after we're through.
Exceptional Customer Service
Our customers have counted on us for years because we do an amazing job every time. Our Google reviews mean we're doing something right in the roofing industry. Compare us with other Indianapolis roofing businesses, and feel free to ask us any questions you have about our services. We will take the time to talk to you and make sure you feel comfortable with choosing us for roof repair, roof inspection, and installation.
When it comes to roof repair, we also orchestrate everything with the insurance company. You'll find it's much easier to make insurance claims and have what is normally a stressful process flow smoothly from start to finish.
With our flexible financing options, you won't need to worry about the cost or delay of fixing your roof. Our knowledgeable team will tell you everything you need to know about financing to start the process.
Need Professional Roofers in Indianapolis? We're Ready to Help!
You can count on Jackson Contracting for all of your roofing needs. We treat all our customers with professional and courteous service, no matter the project. In Indianapolis, you can call us for all kinds of residential or commercial roofing systems.
We provide professionalism in every installation for a wood shake, rubber roofing, standing seam metal, TOP, and Decra metal shingles. Whether you need roofing repair, roof replacement, or a new roof installation, we provide transparency in our services. Always going above and beyond your expectations, we do the job right from the start to ensure you have years of happy and safe memories in your house.
Contact our roof repair Indianapolis experts, and you can get a no-obligation free estimate today.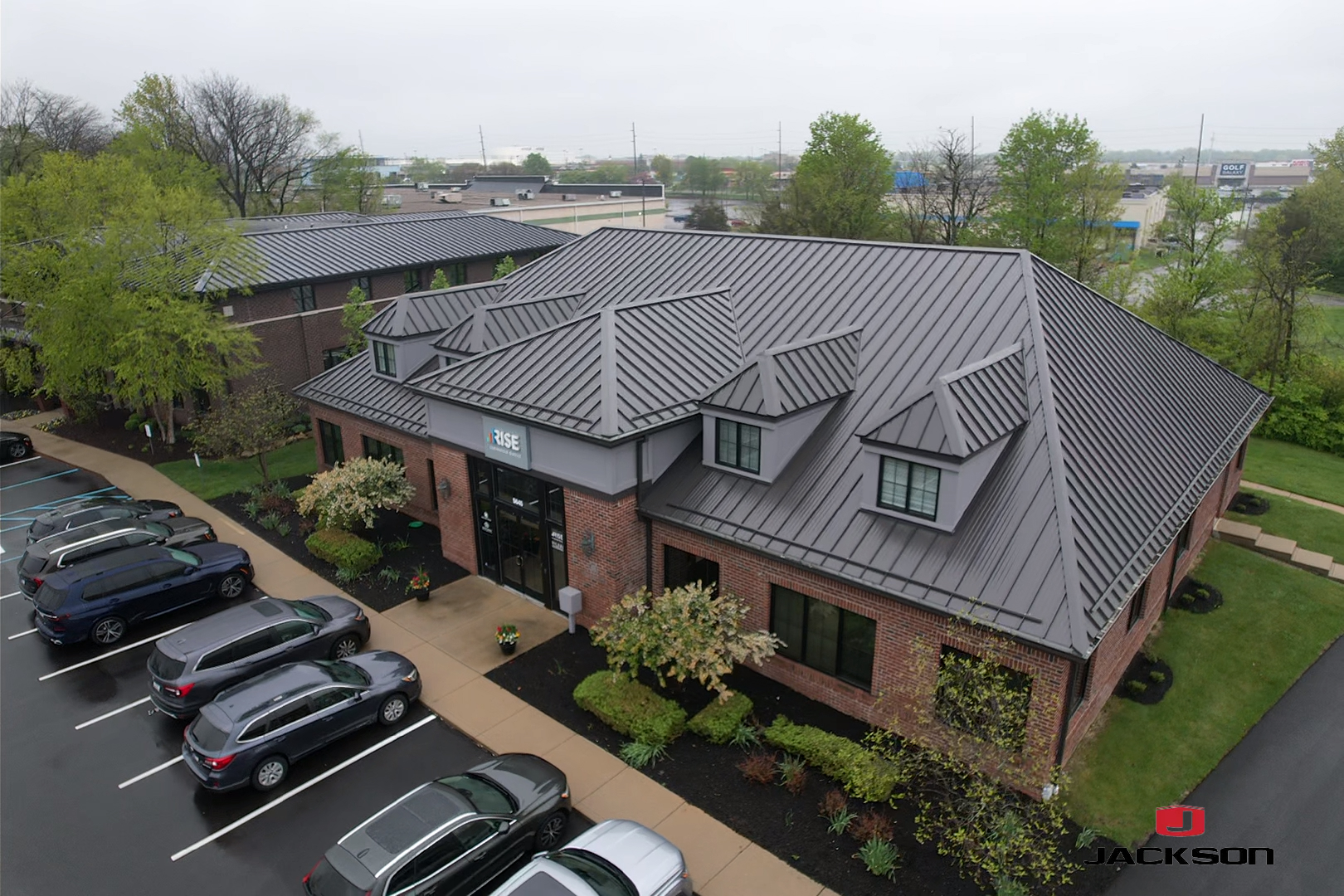 How to Choose a Great Company to Handle Your Roofing Needs
The Indianapolis community is no stranger to inclement weather. From snow and hail damage that needs to be repaired to an old roof on your home, having a roofing company that you can trust for inspections, maintenance, repair, and roof replacement means everything.
At Jackson Contracting, we want to earn your business for life, which is why we strongly encourage you to get at least three estimates before you make a decision. This is a big investment in your home, and while you may feel the need to act urgently, you should also be certain you're making the best choice.
We know cost is important to you, but don't let it be the only thing you look at when choosing professional roofers. What you save upfront will likely disappear in repair costs if you let someone perform shoddy work on your roof.
Instead, focus on these factors to make your choice:
Lifetime Warranty
Warranties add more peace of mind to your purchase. At Jackson Contracting, we offer a lifetime warranty because we have full confidence in our work. This warranty can even be transferred to any subsequent owners should you sell your home.
Complete Transparency
Honesty is an important trait to look for in a roofing company. Look for a company that will give you the full details, one that won't push you to replace your roof when it's not that old and doesn't have a lot of damage.
Communication
Another sign of a good company to use for roofing projects is one that communicates effectively. A roofing contractor should be willing to clarify terms you don't understand and keep you fully in the loop about what's going on. If they follow up when they say they will and keep a professional demeanor, that's a good sign.
Reviews and Ratings
While reviews and ratings aren't the only measuring stick to use, they can help you narrow down your search. Google reviews and a good rating with the Better Business Bureau are generally positive indications that the business is providing its customers with quality services.
Check all over the web and on the company's website. Higher ratings all around will mean that you can likely count on them to provide a quality job on your roof.
Indianapolis Roofing Services You Can Count On
It may seem like a complex process to repair or replace your roof, but Jackson Contracting provides the expertise and service you need to feel safe and secure in your home in Indianapolis, Indiana. Our company isn't just in the business of sending contractors out for roofing, gutter, and siding jobs. We take pride in what we do and put attention to every last detail.
Your roof has a limited lifespan, but it is our intent to make it last as long as possible. When searching for roofing in Indianapolis, whether residential or commercial, you will find our knowledgeable team ready to provide you with the quality in service, materials, and craftsmanship that will further enhance the building's value.
Whether you have a roof with shingles, metal, TOP, or any other type of roof, you can rest assured that you will have a quality experience from beginning to end. We've served many homeowners and businesses in the Indianapolis community. Let us make your project a success through and through.
Call us today at 317-214-8124, and one of our professional contractors will schedule an appointment time that is convenient for you. From roof inspection to new roof installation, we are ready to make all of your roof dreams come true with our dependable and reputable roof services.